Stock Screener - Save Screen
First, use the Add Filters menu to add filters. These will be displayed in the Current Screen section.
Manage Your Market Risk
Colin Twiggs' weekly review of macro-economic and technical indicators will help you identify market risk & improve your timing.
Join our free Trading Diary mailing list with over 140,000 subscribers.
Second, click the Save Screen button.

Last, create a unique name for your saved screen. Choose something descriptive so that it will be easy to find when you have saved a number of screens.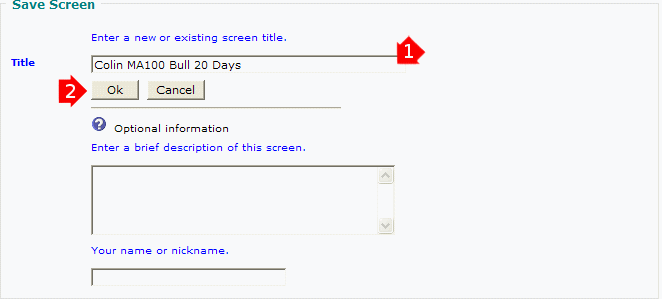 The saved screen will then be displayed on the View Saved Screens tab.
Active or Reactive?
Many investors follow active strategies but end up being reactive, rotating in and out of stocks at the wrong time.
Colin Twiggs' free weekly review of global markets will help you identify market risk and improve your timing.
After you have saved the screen, you can still click the Run Screen button in order to execute the screen you have just saved.
You can also add or delete filters and save as a separate screen.
The Save Screen button will save the displayed filters plus the following settings:
Exchange;
Index;
Sector;
Watchlist;
Sort By and Sort Order; and
Results Per Page;